IDAHO BOATER EDUCATION CARD
Your Idaho Boater Education Card is NOT the same thing as your Idaho driver's licence. The Boater Education Card, or "boating license", simply proves that you have taken a Boating Safety Course and is not required for boat operators on Idaho's waters. However, all boaters should receive a Boating Safety Education to keep the state waters safe for everyone who's out there enjoying them.
OBTAINING YOUR IDAHO BOATING LICENSE
You can obtain your Idaho boating license by taking the online BOATsmart! Course –  you'll be on the water with confidence in just a few hours.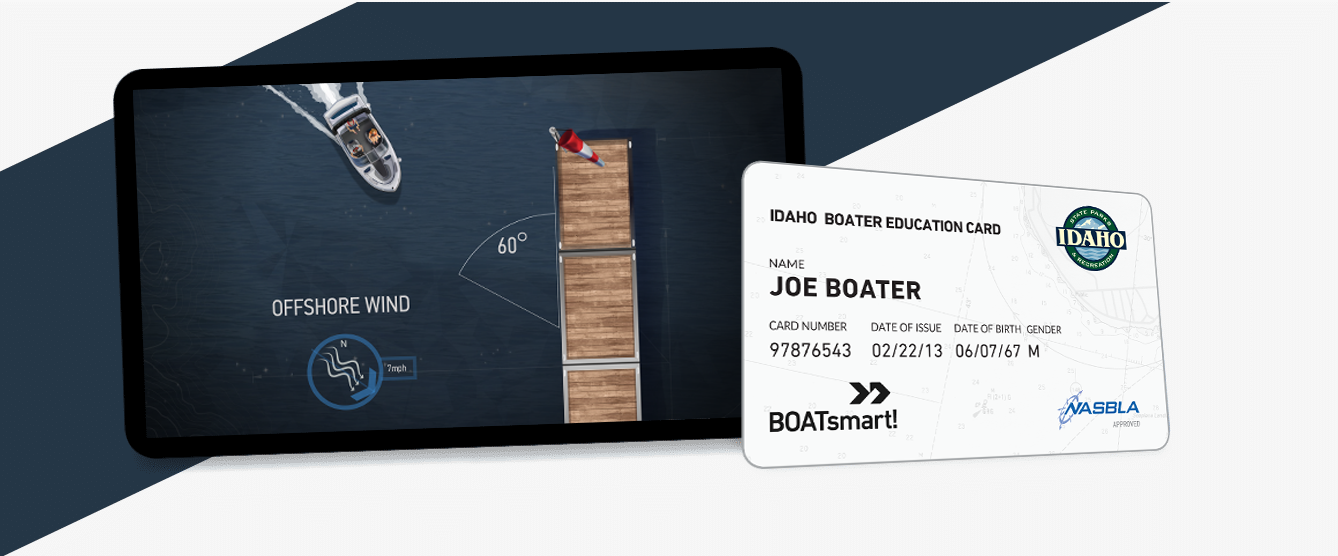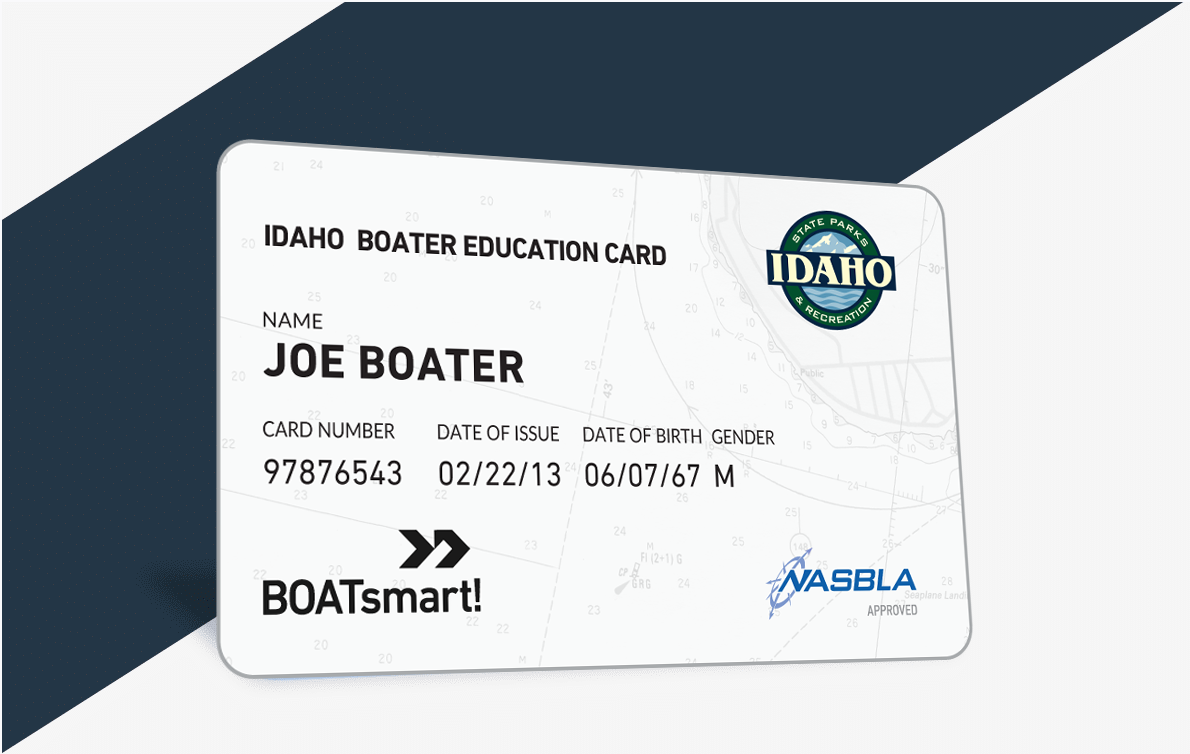 Get your Official Idaho
Boating License
The Official NASBLA and Idaho State-Approved Boating Course, Test & License.
Get your Official Idaho
Boating License
The Official NASBLA and Idaho State-Approved Boating Course, Test & License.
WHAT ARE IDAHO'S LIFE JACKET REQUIREMENTS
In Idaho, all boats are required to carry one, Coast Guard approved, wearable life jacket or PFD for each passenger on board the boat.
Adults are not required to actually wear life jackets at all times while boating, however you should always wear one.  A life jacket can be the difference between life and death in an emergency.
In Idaho, children 14 years of age and under are required to wear a Coast Guard approved life jacket when underway on any boat that is under 19 feet in length. This includes paddle craft, sailboats, PWCs and fishing float tubes!
Parents, always make sure your child's life jacket is properly secured and in good condition.
BOATING AND ALCOHOL IN IDAHO
In Idaho it is illegal to operate any boat while under the influence of an intoxicating substance, such as drugs and/or alcohol.
A boat operator is considered to be 'under the influence' if they have a Blood Alcohol Concentration (BAC) level of 0.08 or higher. Or, if a boat operator in Idaho is under 21 years of age, they will be considered to be under the influence if their BAC level exceeds 0.02%.
A person convicted of operating a boat while under the influence in Idaho may be fined up to $1,000 and may receive up to 6 months in a county jail. They may also be required to complete a boating safety course and they may lose the privilege to operate a boat for up to 2 years. Don't take the risk boaters! Stay sober to stay safe and to avoid facing these penalties.
IDAHO'S BOAT ACCIDENT REPORTING REQUIREMENTS
If you've been involved in a boat accident on Idaho's waters, you are required to immediately report the accident to the sheriff of the county where the accident occurred.
For more information and to obtain an official Boat Accident Report Form, contact the Idaho Department of Parks and Recreation.
IDAHO PARKS AND RECREATION CONTACT INFORMATION
The BOATsmart! Idaho Boating License Course has been approved by the Idaho State Parks and Recreation. For more information, contact the Department at:
Idaho State Parks and Recreation
5657 Warm Springs Ave.
Boise, ID 83716
208-334-4199
https://parksandrecreation.idaho.gov