OKLAHOMA BOATER EDUCATION CARD
Boating Safety Education is required by anyone 12 – 15 years of age operating a PWC, or a boat powered by an engine greater than 10 horsepower, or sailboat over 16 feet in length.
Your BOATsmart! Boater Education Card is not the same thing as an Oklahoma driver's licence. The Boater Education Card, commonly known as a "boating license" is proof that you have the minimum level of boating skill needed to operate a boat safely on Oklahoma's waterways.
OBTAINING YOUR OKLAHOMA BOATING LICENSE
Get your Oklahoma Boating License today by signing up for the online BOATsmart! Course. Register for the BOATsmart! Oklahoma Course, pass the test and you'll be enjoying Oklahoma's waterways in just a few hours.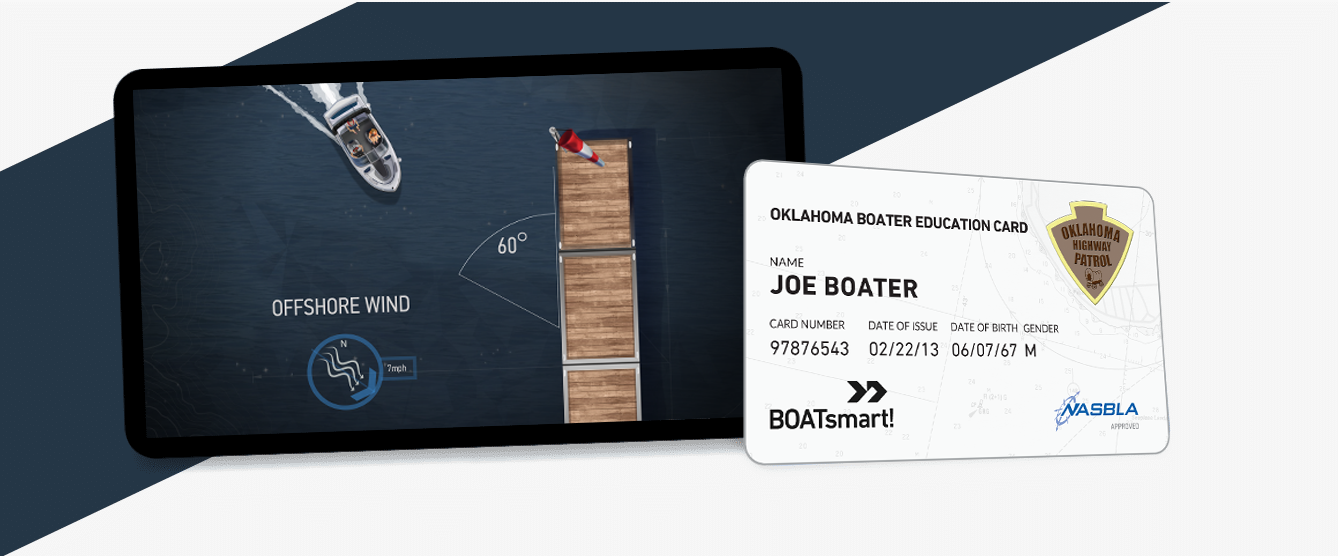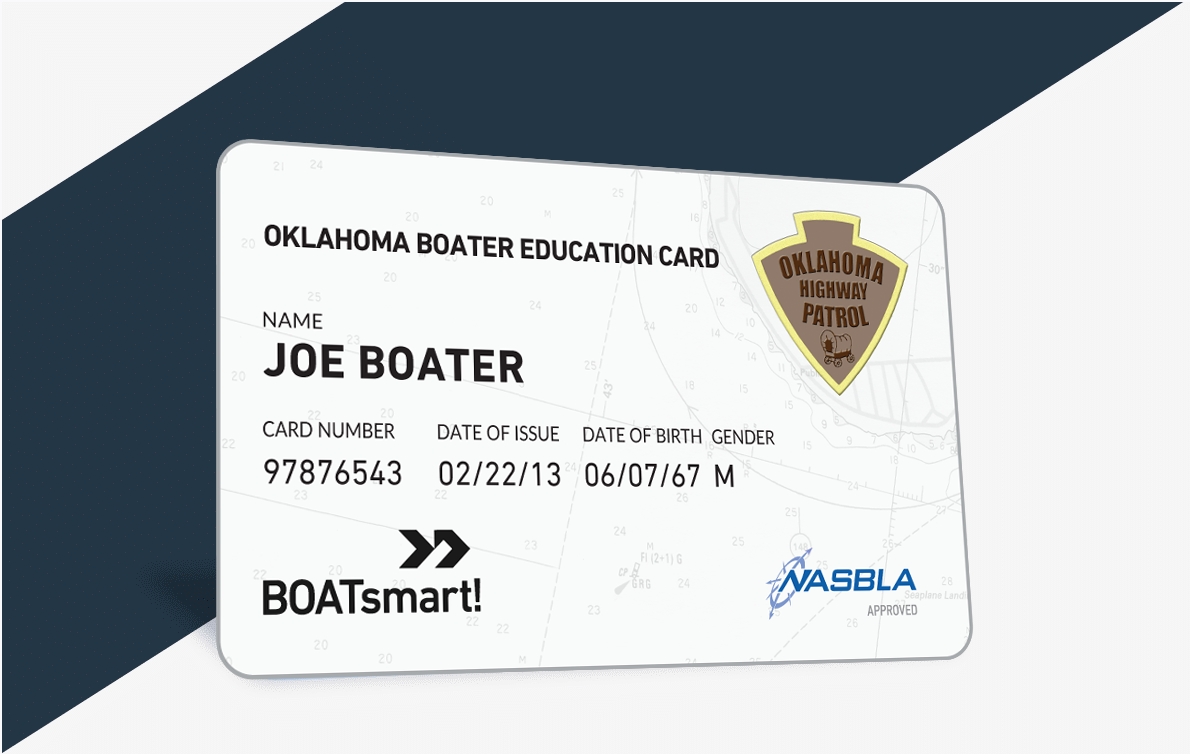 Get your Official Oklahoma
Boating License
The Official NASBLA and Oklahoma State-Approved Boating Course, Test & License.
Get your Official Oklahoma
Boating License
The Official Transport Oklahoma Boating
Course, Test & License.
LIFE JACKET REQUIREMENTS IN OKLAHOMA
All boats operating on Oklahoma's waters are required to carry one, Coast Guard approved life jacket or PFD for each passenger on board the boat. Adults are not required to wear life jackets when boating in Oklahoma but they must have a readily accessible life jacket at all times while underway. We suggest that everyone wear a life jacket when boating, including adults. WEAR IT Oklahoma!
Children 13 years of age or younger in Oklahoma are required to wear Coast Guard approved life jackets when underway on any boat that is under 26 feet in length. WEAR IT Oklahoma!
BOATING AND ALCOHOL IN OKLAHOMA
It is illegal in Oklahoma to operate a boat while under the influence of alcohol, unless you are operating on privately owned waters.
In Oklahoma, you will be considered 'intoxicated' or 'under the influence' if your Blood Alcohol Concentration (BAC) level is 0.10 or higher.
If convicted in Oklahoma of operating any type of boat, including a personal watercraft, while under the influence of alcohol or drugs, you will be subject to a fine of up to $1,000.
BOAT ACCIDENT REPORTING REQUIREMENTS IN OKLAHOMA
If you've been involved in a boat accident in Oklahoma, you are required to submit a Boat Accident Report to the Oklahoma Department of Public Safety by the quickest means possible. Keep in mind, boat operators 16 years of age or older, who were operating in a reckless manner which caused an accident resulting in the death of another person, within one year of the accident, will be guilty of negligent homicide. Stay safe out there boaters!
OKLAHOMA HIGHWAY PATROL, LAKE PATROL SECTION CONTACT INFORMATION
The BOATsmart! Oklahoma Boating License Course has been approved by the Oklahoma Highway Patrol, Lake Patrol Section. For more information about Oklahoma's boating laws, you can contact the Department at:
Oklahoma Highway Patrol, Lake Patrol Section
3600 North Martin Luther King Avenue
Oklahoma City, Oklahoma 73111
(405) 425-2424
https://www.dps.state.ok.us/ohp/aboutlp.htm