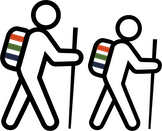 Campfire Ambassadors are enthusiasts, experts and guides who share and inspire adventure. They are the most active members of the Collective and great storytellers that consistently produce new and unique content including high quality images, video, how-to articles, subject matter expertise, gear reviews, travel experiences, guided adventures and more.
Ambassadors promote the Campfire Collective and engage with members of the community. Through the Collective they also work with Campfire partners including brands, public agencies and educators, to help inspire and enable others to have awesome experiences outside.  
We work with those who have an authentic interest in inspiring and engaging others, and who help us have a positive impact in people's lives and the environment in which we play. It's important that you share our values and core belief that people are better people when they spend time in their wild.
Once you apply and are approved as a Campfire Ambassador we'll work with you to publish your content on Campfire's digital properties and social channels. We also work with Ambassadors to publish their content across our partner network and to your audiences. Ambassador relationships are both paid and unpaid, relevant to the engagement and scope of your audience, the type of and timeline of content you produce and the various perks and value that we're able to provide through our network.
Ambassadors are valued members of the Collective. We believe there's power in doing more together, and we strive to bring together the people and partners who share in the mission of helping people have awesome outdoor adventures. That means there's great opportunity and some killer perks!
Contribute at the centre of an engaged community of outdoor enthusiasts


Sleep well at night knowing you're a source of inspiration

Share your knowledge & know-how to benefit others

Get your content or business in front of new audiences

Feel good about helping to promote sustainability and conservation

Get free Campfire swag and partner gear

Take advantage of teaching and mentoring opportunities
Get introduced to some awesome brands and people
It's not what we put out there that matters. It's what people do with it. Success should be measured by adventures taken. Working together to achieve this, while protecting our playgrounds is the mission.

In partnership with 1% For The Planet, Campfire pledges a percentage of our annual revenue directly to nonprofits that sustain and protect the wild.