Is a Boating License Required In Alaska? The state of Alaska does not require boaters to obtain an Alaska Boating License. However, it's super smart to become a certified smart boater to make sure you can stay safe and be confident on the water. Oh and this is cool, once obtained, your BOATsmart! Card is good for life and will keep you legal when boating in 40 different states and in Canada. You'll even save money on boat insurance.
A Boater Education Card or Boating License is not required for non-residents boating in Alaska.
ALASKA BOATER EDUCATION CARD
A BOATsmart! Boater Education Card is NOT the same thing as an Alaska driver's license. The Alaska Boater Education Card, more commonly known as a "boating license" is proof that you have taken a boater safety course and gained the boating skill needed to operate a boat safely on Alaska's lakes and rivers. A Boater Education Card is not required in the state of Alaska, but a boater safety education is highly recommended. Hit the water with confidence!
OBTAINING YOUR ALASKA BOATING LICENSE
You can get your Alaska Boater Education Card one of the following ways:
Take an online Boater Safety Course, like the BOATsmart! Alaska Boating Safety Course.
Take a classroom Boater Safety Education Course, instructed by an employee or volunteer of the Alaska Office of Boating Safety.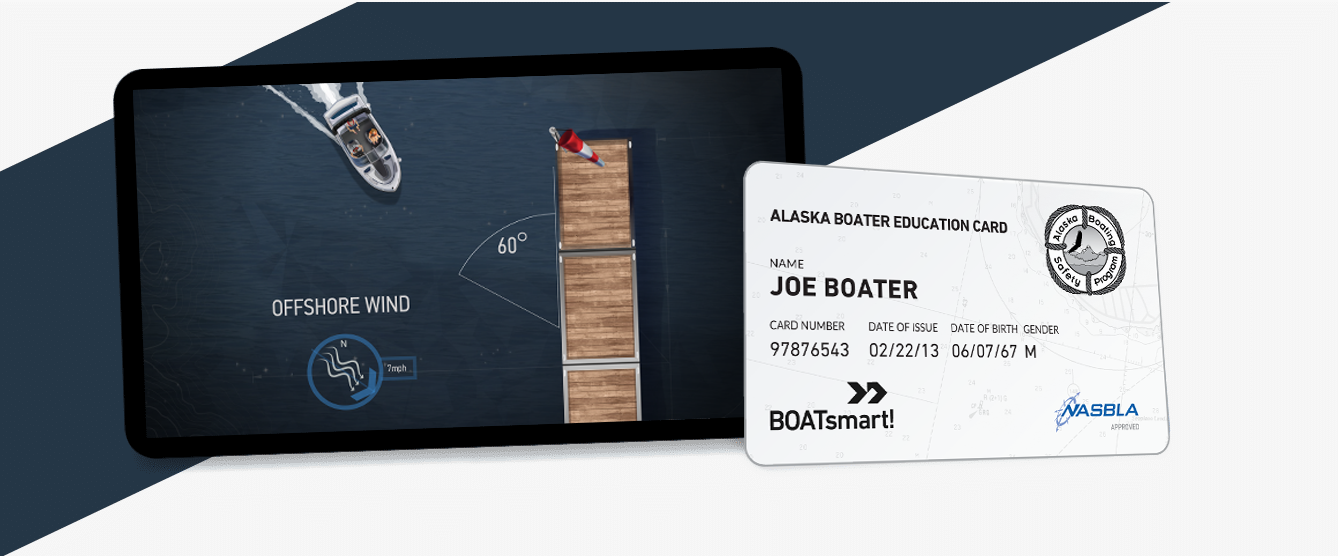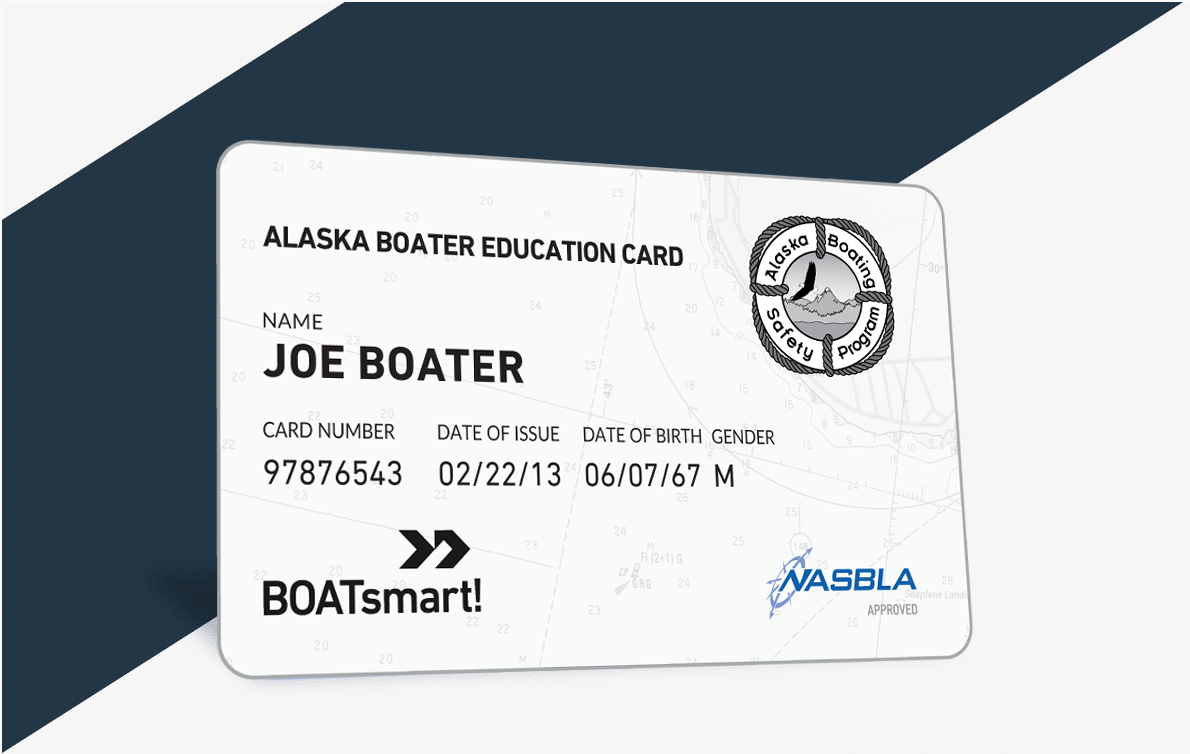 Get your Official Alaska
Boating License
The Official NASBLA and Alaska State-Approved Boating Course, Test & License.
Get your Official Alaska
Boating License
The Official NASBLA and Alaska State-Approved Boating Course, Test & License.
The BOATsmart! Card is accepted in 40 states, which extend reciprocity. This means the BOATsmart! Course meets the National Standards established by NASBLA. This reciprocity applies to operators of motorized boats, but not in all states to operators of personal watercraft (PWC). Check the boating laws in the state you plan to visit prior to operating a boat or PWC there.
LIFE JACKET REQUIREMENTS IN ALASKA
All boats operating on Alaska's waters (including human-powered watercraft like canoes and kayaks) are required to carry one, Coast Guard approved, wearable life jacket or PFD for each passenger on board the boat. Adults are not required to wear life jackets when boating. However, we strongly recommend that everybody WEAR IT Alaska! This is especially important if you're boating in cold water environments.
Additionally, boats greater than 16 feet in length are also required to carry one, Coast Guard approved, Type IV (throwable) device on board at all times.
In Alaska, children 13 years of age and under are required to wear a Coast Guard approved life jacket when on the open deck of any boat, when underway on any boat or when being towed on water-skis or other devices. Parents, make sure your child's life jacket is properly secured and in good condition. It's the law. WEAR IT Alaska!
BOATING AND ALCOHOL IN ALASKA
It is illegal in Alaska to operate a boat while under the influence of alcohol, an inhalant, controlled substances or any combination thereof.
You will be considered 'intoxicated' or 'under the influence' if your Blood Alcohol Concentration (BAC) level is 0.08 or higher within 4 hours of operating the boat.
If you are convicted of operating any type of boat, including a personal watercraft, while under the influence of alcohol or drugs, you will be subject to a minimum fine of $1,500 and a minimum of 72 hours imprisonment.
Keep in mind, boaters in Alaska convicted of operating while under the influence will lose their driver's license for a minimum of 30 days and their boat will be forfeited.
BOAT ACCIDENT REPORTING REQUIREMENTS IN ALASKA
If you've been involved in a boat accident in Alaska, you'll be required to submit a Boat Accident Report to the Alaska Office of Boating Safety. If a boat passenger is injured, killed or has disappeared from the boat, you must submit the formal Alaska Boat Accident Report within 48 hours of the occurrence. Under any other circumstances, the boating accident report must be submitted to the Alaska Office of Boating Safety within 10 days. Stay safe out there boaters!
Boaters can obtain an Alaska Boat Accident Report Form from the Alaska Office of Boating Safety, the Alaska Department of Public Safety or from the U.S. Coast Guard.
ALASKA OFFICE OF BOATING SAFETY CONTACT INFORMATION
The BOATsmart! Alaska Course has been approved by the Alaska Office of Boating Safety. For more information, you can contact the Department at:
Alaska Office of Boating Safety
550 West 7th Ave. #1380
Anchorage, Alaska, 99501
(907) 269-8706
https://dnr.alaska.gov/parks/boating/index.htm