Kayaking: Getting Started
If you're reading this, and you're anything like I was when I first thought about buying a kayak, you may not really know where to begin.
I thought that talking about how I got started and sharing some of my experiences may be of help.
First a bit about where I live and paddle, which is in Northwest Ontario, Canada.
It's a sparsely populated wilderness area. The landscape is primarily forests of black spruce and jack pine, with granite rock outcroppings, typical of the Canadian Shield.
There are many rivers and lakes, from small in size up to massive Lake Superior.
Access to some waterways is difficult and may require using a float plane, bush roads or trails with all-terrain vehicles (ATV's) or portaging to get to.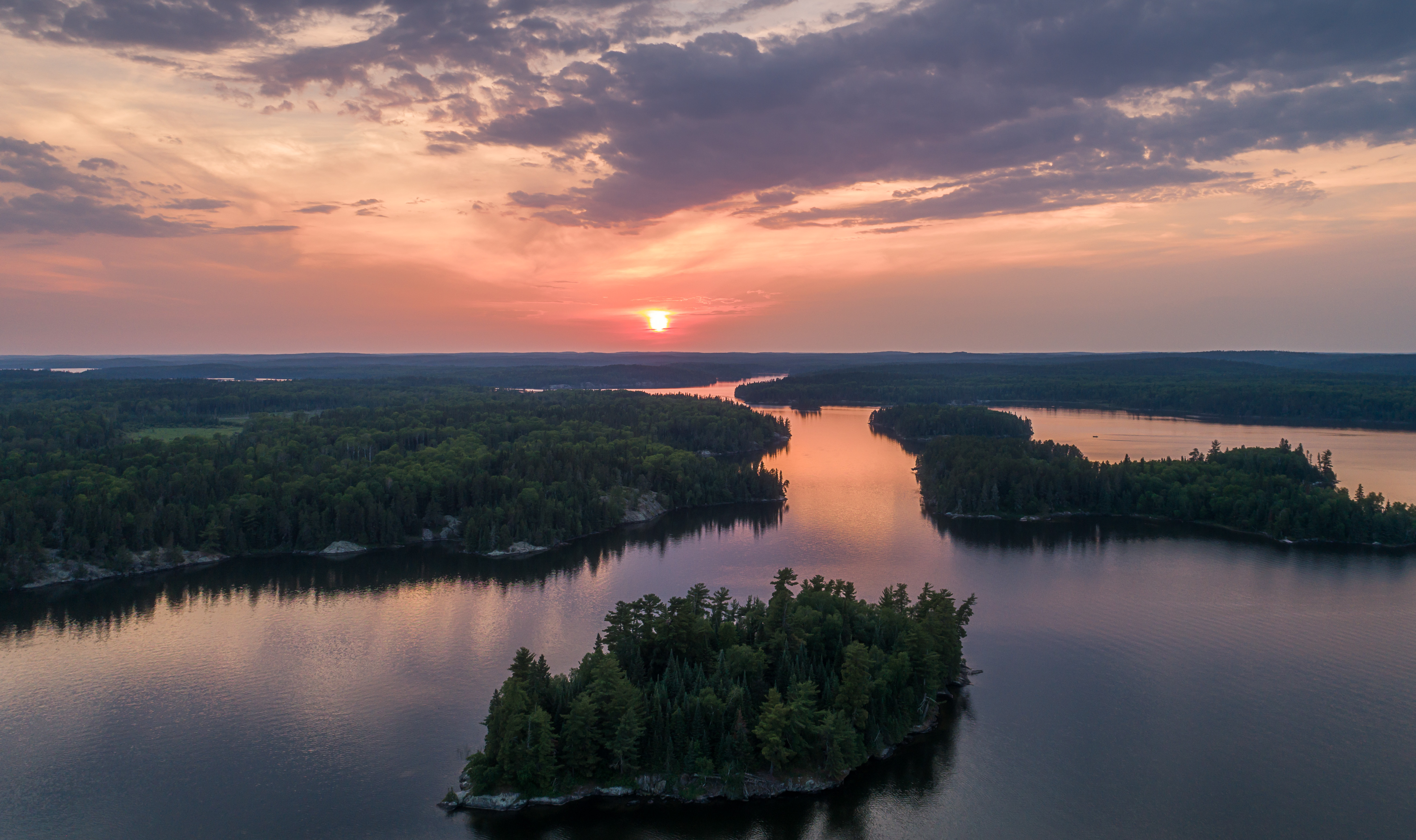 My First Kayaking Experience
My first experience in paddling a kayak was a short one, but one I'll never forget it.
I was on a fishing trip with friends, staying at a cabin in Northwest Ontario. It was a hot summer day and the fish weren't biting. We went back to the dock to enjoy the cool water and some refreshments.
There was a small red plastic kayak there, which looked interesting and was something I'd never tried before.
My experience on the water, until then, was mainly in powerboats and canoes.
I thought I'd give it a try and took a life jacket from my boat, and put it on. I jumped into the kayak and set out to paddle to an island half kilometre or so away.
All was going well until I got out of the sheltered bay and into the open water. All of a sudden, I could feel the wind and found myself in some good-sized waves.
The kayak started to rock back and forth, but I decided to keep going to the island. As you may have already guessed, I didn't make it.
The kayak capsized, and I was in the water. It quickly filled up and I found myself hanging on to a submerged kayak. I tried to pull it up to empty the water out but couldn't.
My friends back at the dock, watching and laughing, jumped in a boat to come out and get me, and the kayak, back to the dock.
My thoughts of hanging out on the island in the summer sun ended there. At least it was a good day for a swim.
Years later, I wanted to try kayaking again and this time buy one. I did some research online, reading reviews and watching videos.
I saw that there were a number of different kinds of kayaks. All of the options had significant differences, which made it difficult for me to decide what to buy.
There are various folding kayaks, inflatable kayaks, and the more traditional hard-shelled kayaks.
While there were several options to choose from, what caught my attention most were the inflatable ones.
The main reasons were that I wanted a kayak that was stable for fishing and wildlife photography, yet easily transportable.
Some kayaks are well suited for these types of activities and can be packed into a fairly small bag, This makes it easy to store and transport them in the trunk or backseat of a vehicle.
Another factor in my decision was that some inflatable kayaks can be used either solo or tandem.
This can be done by simply reconfiguring the layout of the seats, and changing the top deck.
I bought an Advanced Elements AdvancedFrame Convertible, which has all of the features I was looking for.
I also bought the backbone for it, which offers great rigidity and performance. It handles and tracks well and, if you're sitting in the front, paddling may not even be required, although it's certainly encouraged!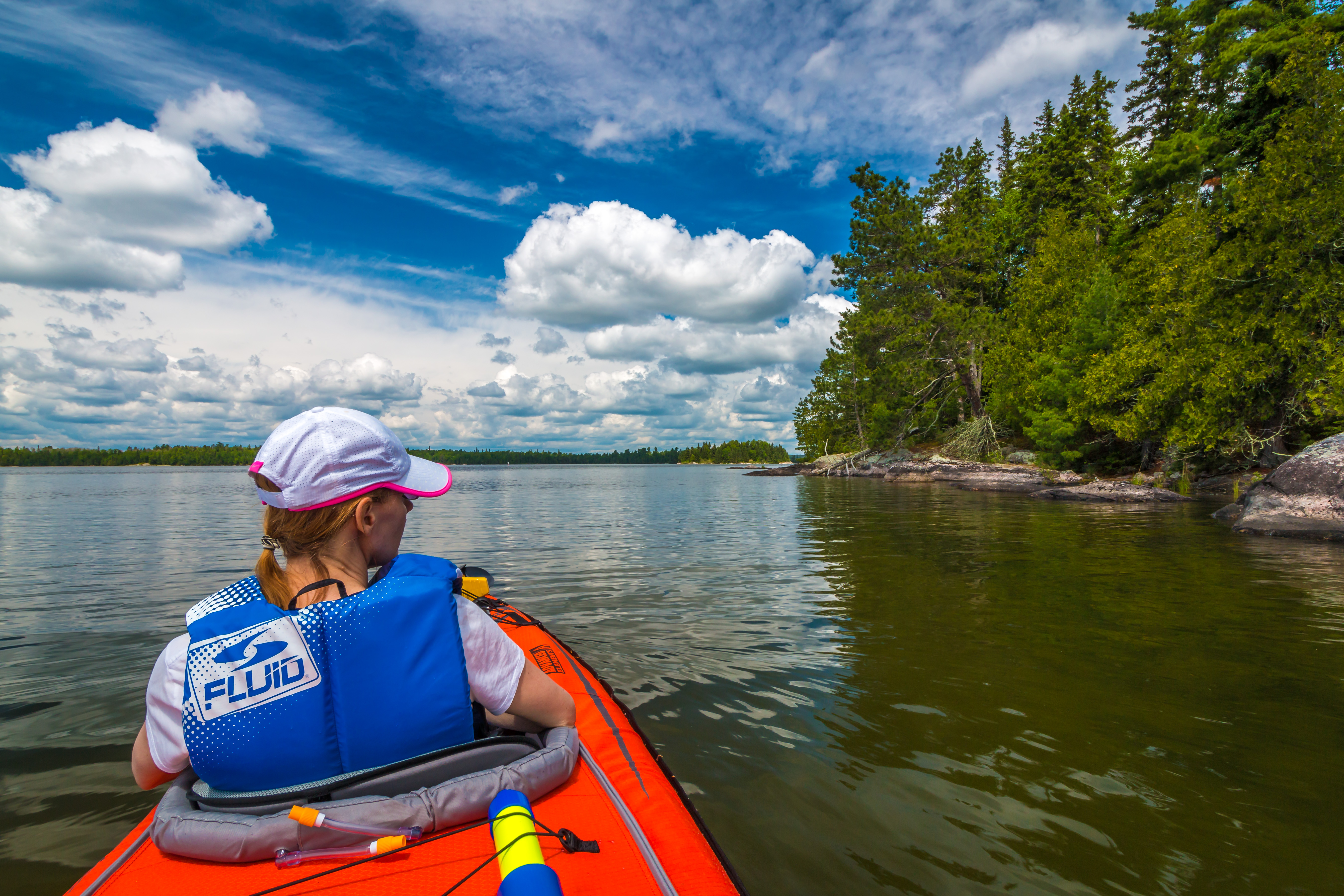 The Benefits of Inflatable Kayaks
You may now be wondering, as I did if inflatable kayaks are safe. Is sinking to the depths just a sharp stick or stone away?
While this may be the case with some inflatable kayaks, others like mine are very safe and durable. They include features such as separate air chambers and tough multi-layered outer skin, to protect against any punctures.
After many years of paddling and dragging my inflatable kayak on and offshore and unintentionally running over submerged hazards, it still has only a few scratches to show for it.
Nothing has ever penetrated the outermost layer.
Being inflatable also means that it floats, so in the event of a capsize it's not going to fill with water and sink.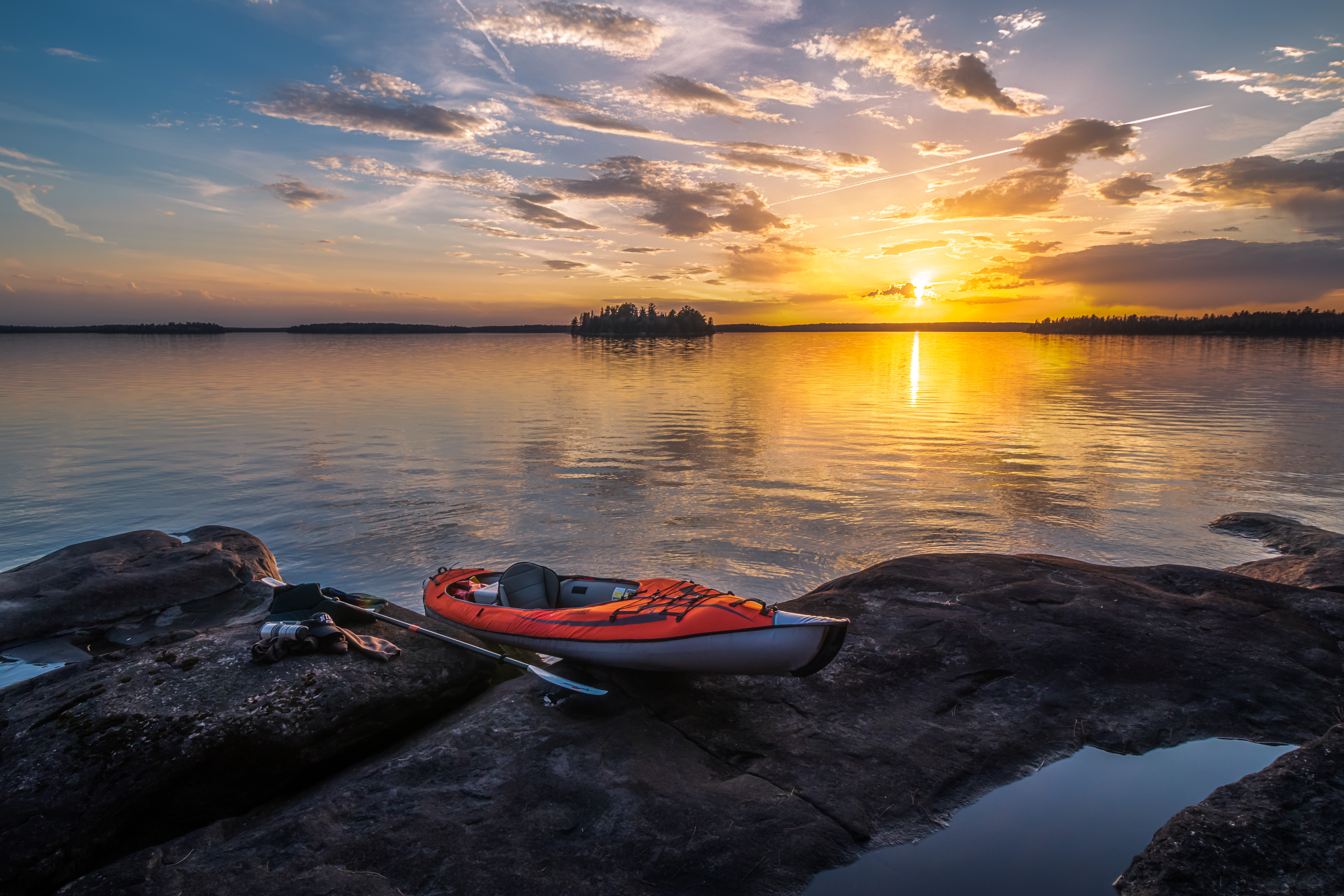 As my confidence and interest in kayaking grew, I wanted to start paddling in more challenging conditions and go on multi-day camping trips by kayak.
So, I decided to get a second kayak more suited for this type of paddling.
When I started to look at the traditional hard-shelled kayaks I saw that there were different types, including recreational kayaks and touring or "sea kayaks".
Recreational kayaks are typically shorter and wider, which makes them move slower due to increased water resistance from their greater width.
However, due to this feature, they feel more stable, which can be appealing to a beginner.
Recreational Kayaks are not as well suited for rough water and can feel very unstable in these conditions. 
Recreational kayaks also typically do not have bulkheads or watertight compartments at both ends of the kayak.
This means that in the event that you capsize they fill up with water, making emptying and re-entering difficult or impossible.
In my opinion, these types of kayaks are best suited for calm waters where you'll be staying close to shore.
Touring kayaks have a sleeker design.
They're longer and narrower, which allows them to travel faster due to less water resistance. They also track better and tend to stay moving in a straight line.
The narrower width makes them initially feel less stable and a bit more 'tippy' than a recreational kayak, for someone not used to them.
However, this feeling is not something to worry about. They're actually very stable and don't typically tip over all that easily.
Touring kayaks are also better able to handle rough water. They're also safer in the event that you capsize since they have bulkheads and watertight compartments at both ends.
Only the cockpit fills, which you can easily empty and re-enter from the water.
Touring kayaks also have a lot of storage space in those compartments. This makes them well suited for longer trips, where you can bring all of the gear and food needed to camp for an extended period of time.
For these reasons, I bought a Delta 17 performance touring kayak from Delta Kayaks. I have had this kayak out on rivers and all sizes of lakes up to Lake Superior, which it handled everything I've encountered with ease.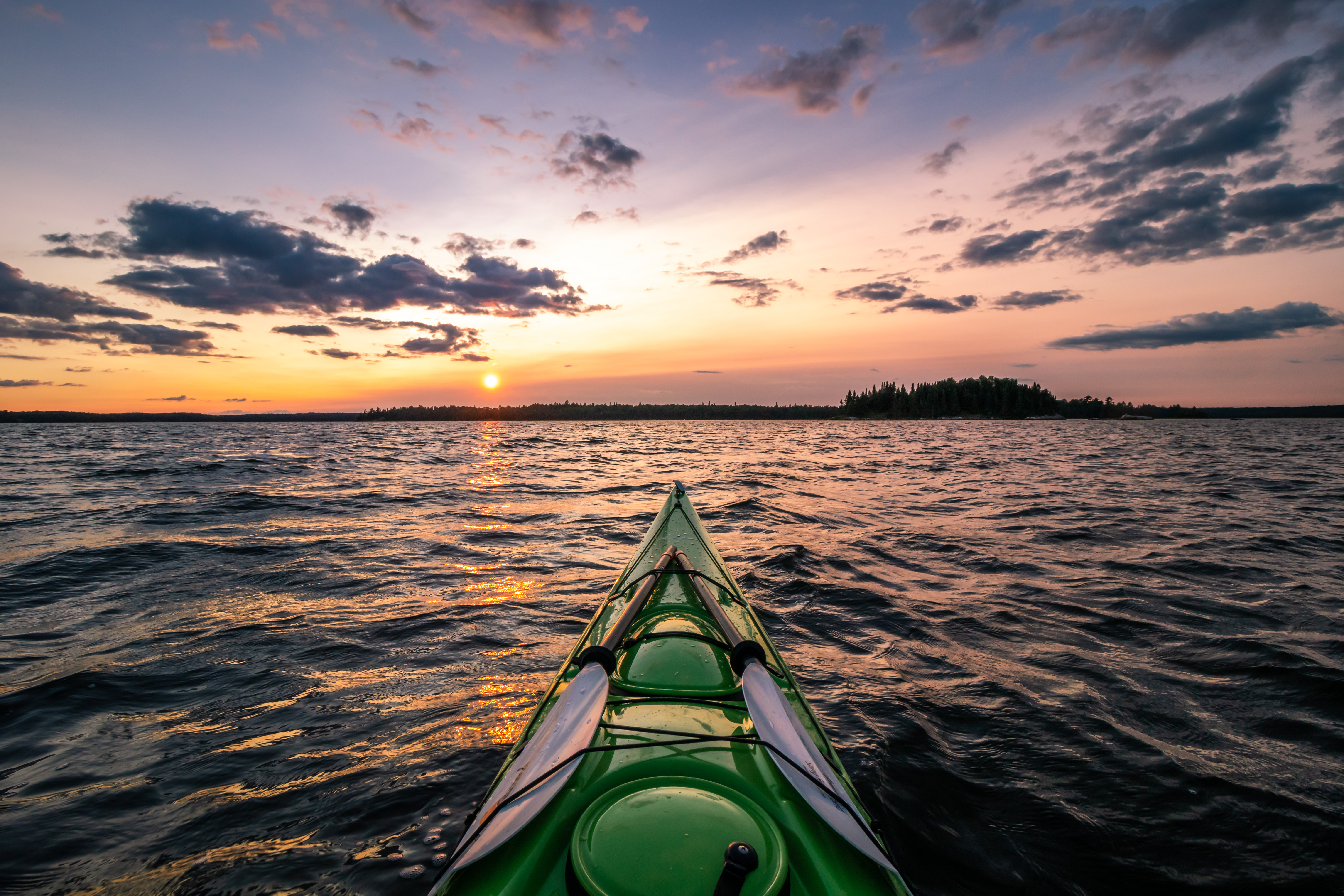 Getting the Most out of Your Kayaking Experience
I enjoy paddling both of my kayaks and use each one where it's better suited to its strengths.
Hopefully, by hearing some of my experiences with kayaks it will help you in deciding what kind you would like to get.
Of course, there is more you will need when getting started than just a kayak. You'll need a paddle and additional gear.
I always wear a personal flotation device (PFD) and also have other gear close at hand including as a spare paddle, paddle float, bilge pump, throw rope and whistle.
You will also need to consider what you should wear, depending on the water temperature where you'll be paddling. For example, regular clothes or wet vs. dry suit.
I also recommend seeking out instruction from a certified kayaking instructor.
You can learn the different paddle strokes and manoeuvres, as well as how to do a self-rescue, and re-enter your kayak in the event of a capsize. You can even learn to roll your kayak.
I hope this short introduction to kayaking was helpful. I'll just end with a photo that shows what kayaking is all about to me.
There's nothing quite like the feeling of being able to paddle to just about anywhere you want and have everything you need with you.
If you feel like it, you can stop on an island and have it all to yourself, unpack some gear, make a cup and enjoy the quiet and a sunset.