Gobble gobble! The sound that makes my heart skip a beat or two. There is no question about it, turkey hunting season is my favorite season. I even wrote my college essay about it, ha! They are certainly a challenge to hunt too!
Turkey season is in the spring, from around the middle of March to May. There is also a fall season in most states, but not all.
Choosing the Right Turkey Decoy
Decoys play a huge part in turkey hunting. The brand my dad and I use is Mojo Outdoors! I talked about their products in my Dove Hunting 101 blog as well. As all turkey hunters know, no movement is crucial. Turkeys see very well and it's so important to stay as still as possible. I can't stress this enough. To help stay covered and hide movements behind your gun, I use the MOJO Tail Chaser Max. My dad really loves this product and always has it on his turkey hunts. You can attach a real fan too, making it look more realistic. 
This next product I use is just plain awesome. It's the MOJO Scoot-N-Shoot. (Pictured in the photo below). I use this to sneak up on turkeys or as a decoy in the field. Two in one! Similar to the previous product, I attach a real fan to it. I've seen it work and it brings turkeys way up close and personal. It's lethal!
In addition to these decoys, and depending on the set up, I use DSD decoys. These are so realistic, but on the pricier end. I really like the hen decoys and they work great with my tom decoys from MOJO.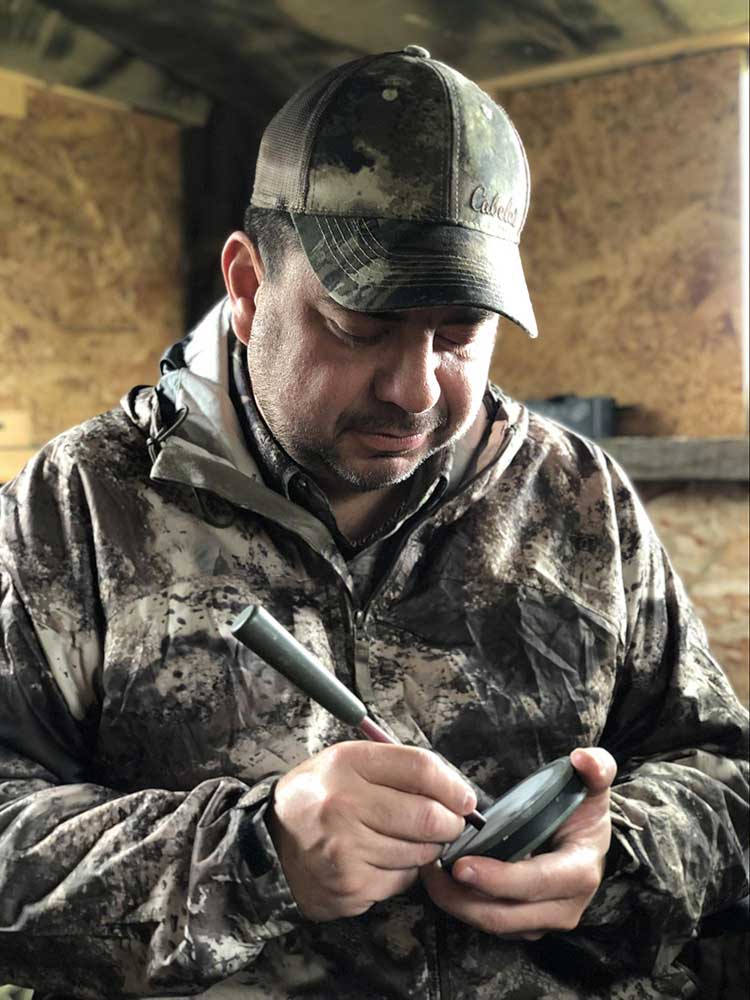 Slate, Box or Mouth Call?
When I was little, around 8 years old, I would go turkey hunting with my dad, and he let me call the turkeys in. That's how I learned and my favorite has consistently been the slate call. I use and love the Zink Thunder Ridge Friction call. It sounds amazing and slate calls are the most versatile.
If you're hunting and there's wind or the turkeys are far away, I recommend using a box call instead of a slate or any other type. They are louder and easier for a turkey to hear. Regarding mouth calls, I personally don't use them because I haven't mastered the skill.
One call I'm obsessed with is a completely different style. It's actually a push button call! These calls are so easy to use, anybody can do it, and it sounds good. They aren't as versatile as a slate call, but they require little movement to operate. My call of choice is the Primos Bombshell.
The Ultimate Turkey Hunting Ensemble
My attire is mostly light layers, for spring and fall, but regardless,I always have rain gear in my backpack. On my hunt in late April, I wore the SHE performance rain pants. Ladies, if you aren't wearing the SHE brand from Cabelas and Bass Pro Shops, you need to be! I'm going to be talking about their gear a lot. I love these pants and they were perfect for the weather I was experiencing. They weren't too thin for the chilly mornings and they weren't super thick for the hot afternoons. I hunted Colorado and the temperatures were averaging in the 40's in the morning and peaking in the 70's later in the day. By this time in April, the rainy season was on its way up.
For the fall, adding a base layer with the rain pants is all you need!
Adding to the rain theme, I carry the Cabela's Space Rain Full-Zip Jacket in my backpack. This is, in my opinion, one of the coolest articles of clothing Cabela's carries. It fits into a small stuff pack and it's convenient to throw in your bag. The rain can't stop me with this gear!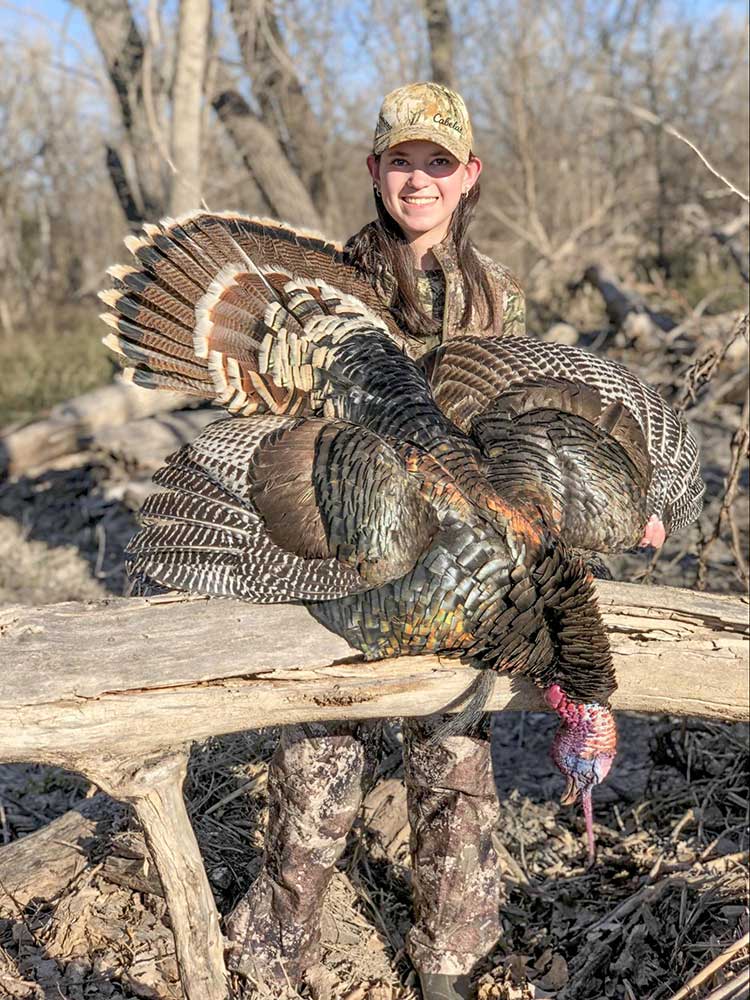 These nasty creatures become very active during March and April, and as I mentioned previously, that's right around when turkey season starts. If you're anything like me, you strongly dislike ticks. I'm paranoid! A quick tip I learned to avoid coming in contact with them, wear rubber boots and tuck your pants into them. It's harder for them to climb on you.
Permethrin is the key! Spray your clothes before your hunt and leave them outside to air out. This not only repels ticks and other insects, but has the power to kill them. You can buy a bottle of this at your local Cabelas. My family uses the Duranon Permethrin Insect Repellent.
Happy hunting!