INDIANA BOATER EDUCATION CARD
Your Boater Education Card, more commonly known as an 'Indiana Boating License' proves that you have taken an approved Boating Safety Course and have obtained the skill and knowledge you need to operate a boat safely. In Indiana, a Boater Education Card is required for anyone operating a motorized boat or PWC who is at least 15 years of age or for anyone who does not have a valid Indiana driver's license.
OBTAINING YOUR INDIANA BOATING LICENSE
You can obtain your Indiana boating license by taking the online BOATsmart! Course –  you'll be on the water with confidence in just a few hours.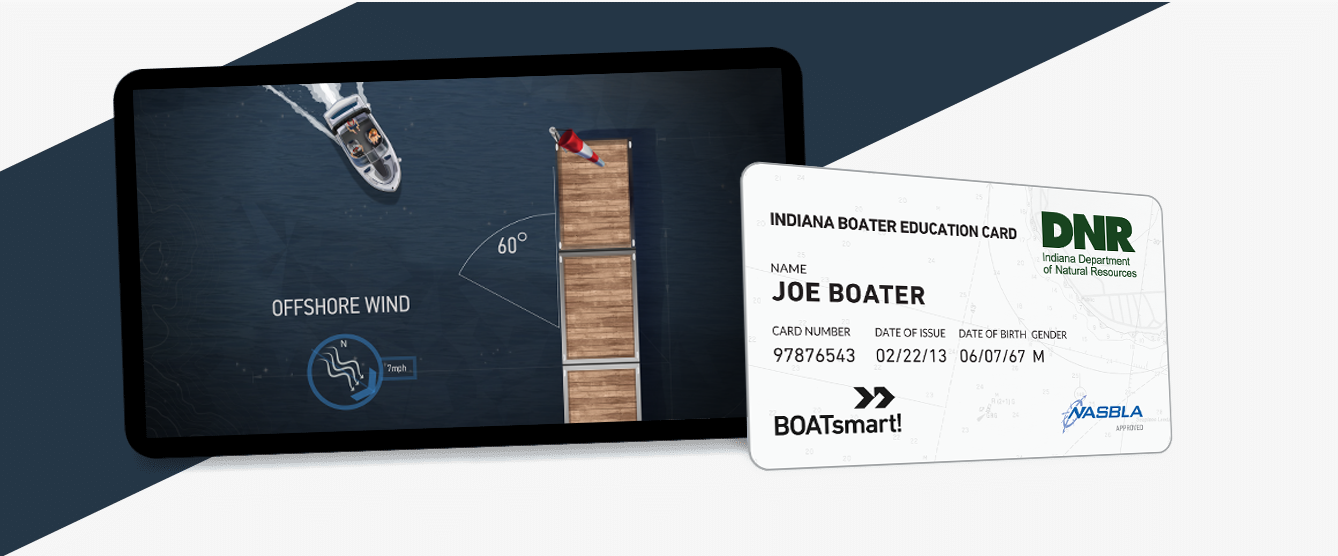 Get your Official Indiana
Boating License
The Official NASBLA and Indiana State-Approved Boating Course, Test & License.
Get your Official Indiana
Boating License
The Official NASBLA and Indiana State-Approved Boating Course, Test & License.
WHAT ARE INDIANA'S LIFE JACKET REQUIREMENTS
All boats in Indiana are required to carry at least one, Coast Guard-approved, wearable life jacket, on board the boat for each passenger. If your boat is over 16 feet in length, you are also required to carry a Type IV (throwable) flotation device on board.
Adults are not required to actually wear life jackets at all times while boating, however you should always WEAR IT! A life jacket can be the difference between life and death in an emergency.
In Indiana, children under 13 years of age are required to wear a Coast Guard approved life jacket when underway on any boat. It's the law in Indiana for kids to WEAR IT! So set a good example by being the cool boat captain who always wears their life jacket!
Boating and Alcohol in Indiana
In Indiana, it's illegal to operate any boat (including any type of paddle craft) while under the influence of alcohol and/or drugs. This includes any type of boat, sailboat, personal watercraft (PWC), water-skis, sailboard or similar device.
Boaters are considered to be 'under the influence' in Indiana if they have a Blood Alcohol Concentration (BAC) level of 0.08% or higher.
Learn more about the risks of boating with alcohol by taking the BOATsmart! Indiana Boating Safety Course. Stay safe and stay sober out there boaters!
Boaters convicted of operating while under the influence in Indiana, on a first offense, may lose all their driving privileges (motorized boat and motor vehicle) for at least 90 days and up to 2 years. Subsequent convictions will face more severe penalties and steeper fines. Why take the risk? Stay safe and stay sober on the water, boat operators!
INDIANA'S BOAT ACCIDENT REPORTING REQUIREMENTS
If you've been involved in a boat accident in Indiana and a person was killed, disappeared from the boat, required medical treatment beyond first aid, or there was property damage exceeding $2,000, you'll be required to submit a Boat Accident Report as quickly as possible, to your local law enforcement authorities.
Contact the Indiana Department of Natural Resources to obtain a boat accident report form.
INDIANA DEPARTMENT OF NATURAL RESOURCES CONTACT INFORMATION