One of the most breathtaking aspects of taking the road less travelled is the majesty of a clear night sky. It's absolutely littered with stars and you realize how much the light pollution deprives you of this sight. It never ceases to amaze me how vibrant and clustered the stars can be even an hour outside of the city. Sometimes it seems as though the longer you look, the more stars appear.
It is for this reason that I began to look into getting a telescope. Something not too expensive or intensive in terms of learning curve. Some can be quite complicated. I also wanted one fairly light so that it would be easy to transport to even the most remote places. After some dizzying research, I found myself left with a few options in mind but. I landed on the Celestron 21035 70mm Travel Scope. At just under $100 (CAD), I took solace in knowing that Celestron is a trusted brand in the stargazing community. And it seemed to fit all my desired criteria. But don't let the size fool you. This scope is quite powerful, and has made for a great grab-and-go gadget.
The Celestron 21035 70mm Travel Scope is an excellent, easy-to-use, portable scope. It comes with its own backpack and a variety of features. This scope is reviewed to be a remarkable tool for beginners and children. It's also a great telescope for intermediate astronomers who are looking to refine their skills, while also having a fairly good scope for when they're out on the road or the trail.
As a beginner, I felt confident with the 4.6/5 online review across a number of different websites. It's a relatively low one-time investment. I felt that this would be a fun tool for my partner and I to fool around with. Then maybe upgrade once we (think) we know what we are doing.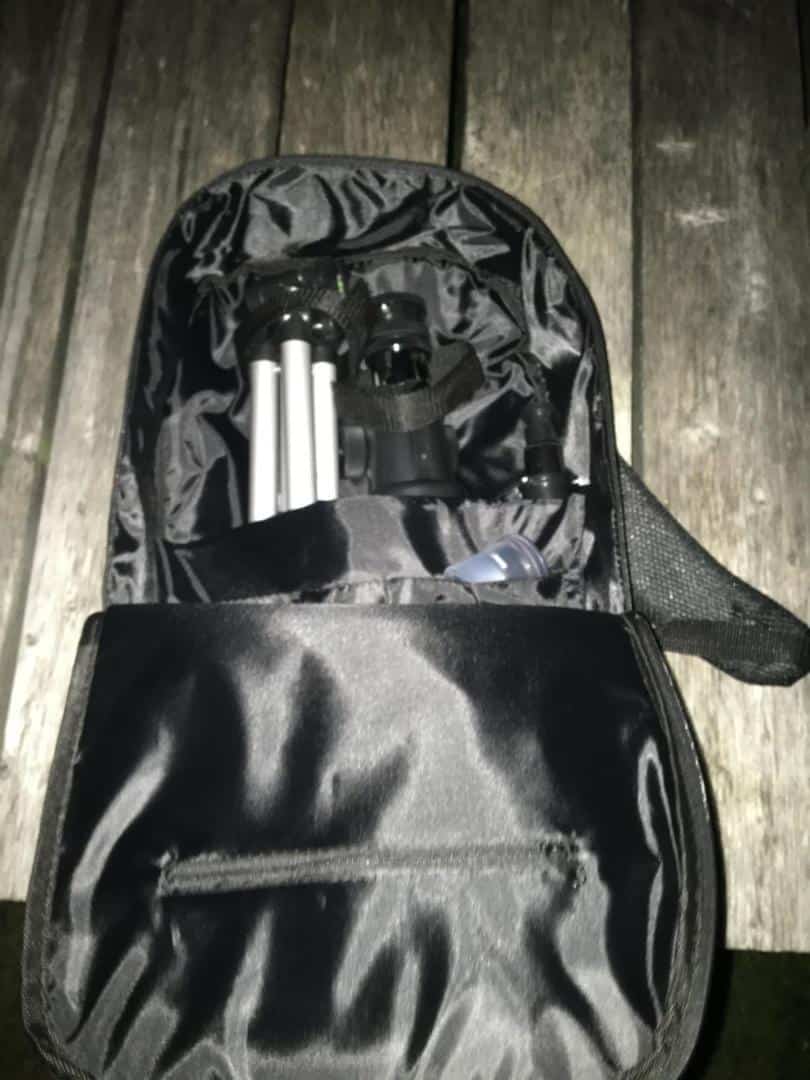 Let's get nerdy for a second – 'cracks knuckles'. This is a 70mm refractor telescope with a 2.76-inch aperture. In addition, the pack includes two eyepieces – 10mm and 20mm, giving a magnification of 40x and 20x. As a plus, this scope comes with full-colour, detailed instructions, and the sky X software. It allows you to learn more about planets and stars. It also comes with an aluminum tripod and a padded backpack case where you can keep everything.
On our first voyage out with the new toy, we took a quick trip about 40 minutes outside the city into some rural farm country. It was the 23rd of September, the sky was clear and the moon was full. As we quickly realized, the instructions were invaluable in assembling and operating this seemingly simple device. However it didn't take us long to figure it out, and it was fun to know that this was a little more complicated than we originally thought. We experimented with both the 20x and 40x magnifications. We were able to see the ridges, craters, and even curve of the full moon quite clearly.
Mars was also visible this night, so once we had some practice with the moon, we attempted to fixate on the Red Planet as a challenge. This wasn't as successful and judging by the reviews online, with some users claiming to be able to see the rings of Saturn. It may have been inexperience rather than device capabilities as the reason why we weren't able to see it. Maybe next time.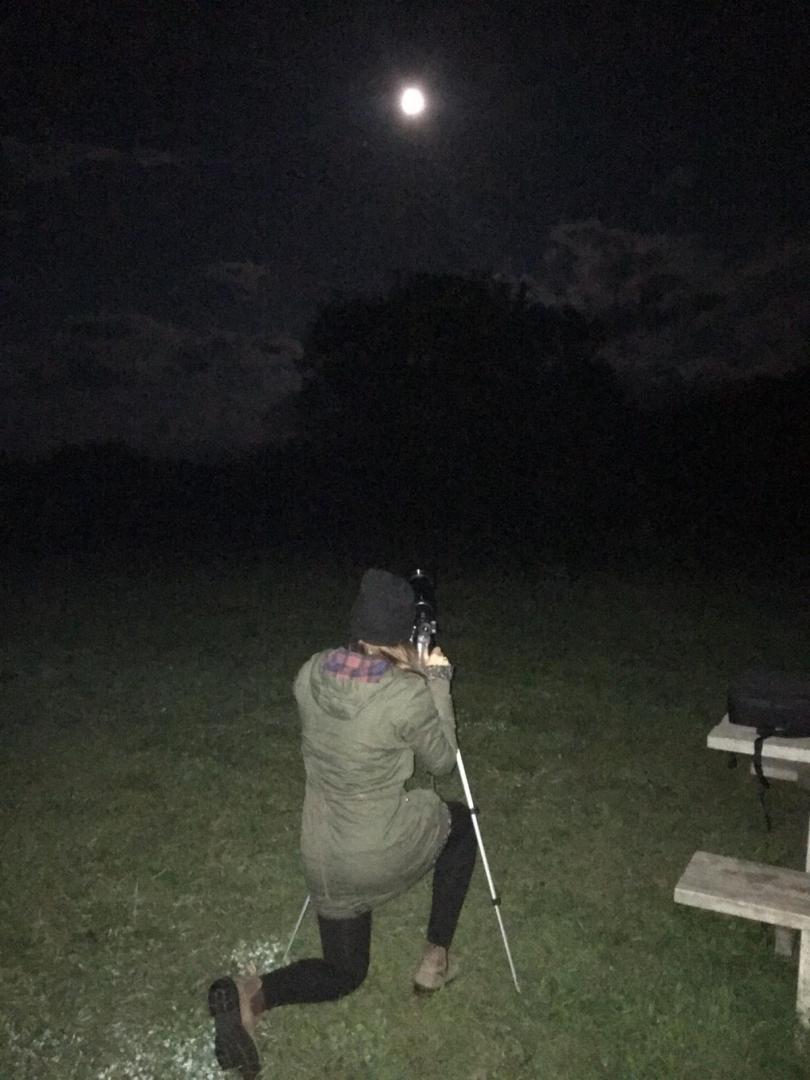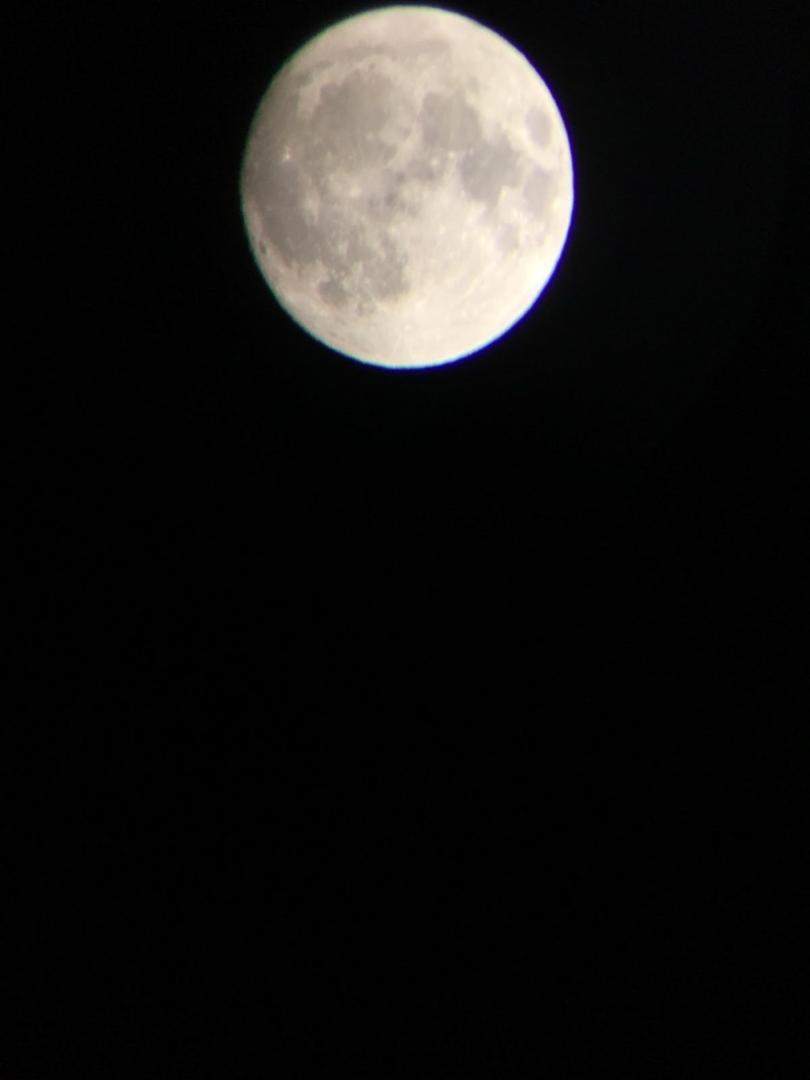 During my research, I learned that some higher-end scopes have the ability to hook-up to other devices. This feature allows you to capture photos right from the lens and transfer onto your phone, laptop, etc. Unfortunately, this model does not have this sort of feature but we did our best to take a photo through the eyepiece. This took a long time, and I felt akin to a sniper dealing with shaky hands when closing in on a target. Taking deep breaths and trying to stay still – but we got it!
There is one downfall of this scope that is apparent. The tripod sucks. On our quick trip to the country, the severity of the crappiness was not such a big deal. However we were also just excited to figure it out together and see the moon up close. When reading the reviews, this seems to be a common complaint from other buyers as well. The issue is that it is simply too light to be effective, and as I have now learned, the process of pointing your scope and fixating on one position in the sky is extremely precise. Since the world stops turning for no one, you have to constantly adjust your angle. The fact that the tripod is so susceptible to blowing over from the slightest wind (or sneeze) makes this already difficult process. Positively hair pulling.
Despite this one set back, this is an all around cool device. If you are an amateur stargazer or want something very portable for your next trip, I highly recommend picking up the Celestron 21035 70mm and taking a peak of something that is truly out of this world.